A Crown reduction is performed to reduce the overall size of the tree. As shown in the diagram below, each branch is carefully cut or pruned back whilst retaining the natural shape of the tree.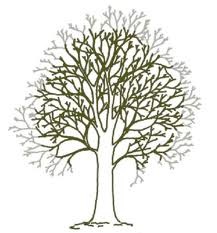 Tree reductions vary depending on the species of the tree. For example, the maximum percentage in which an oak tree should be reduced is 25/30% and ensuring that growth points are left after every cut. This is purely for the well being of the tree and to ensure a full recovery the following season to produce new growth.
Why is it important to care for your tree properly?
Generally, hard wood or slow growing trees such as Oak and Beech must be reduced under correct practice as explained above. Excessive cuts on these types of trees can and in most cases cause severe damage to the tree and its health. The reason for this is, a heavy reduction cut causes a tree of this nature to go into 'shock'. Being a slow producing tree means it cannot reproduce growth quick enough to recover, thus causing the tree to retire the effected branch / limb. Further from this, causes health problems such as a variety of diseases to set in and infect the tree.
Why should i choose a Crown reduction?
A crown reduction is to be performed on a tree to reduce the overall size of the tree to suit its surroundings, keep a tidy natural shape to the crown and good health from reproductive growth.
Sussex tree surgery take great pride in our tree crown reductions. Tree crown reductions require a high amount of knowledge and skill to complete correctly. Not only do we have to take into consideration the percentage of the crown we are reducing, but being sure that we leave growth points and maintain a healthy and attractive shape to the tree. This ensures the health of the tree and to leave you with a tree you can enjoy looking at in your garden or grounds.