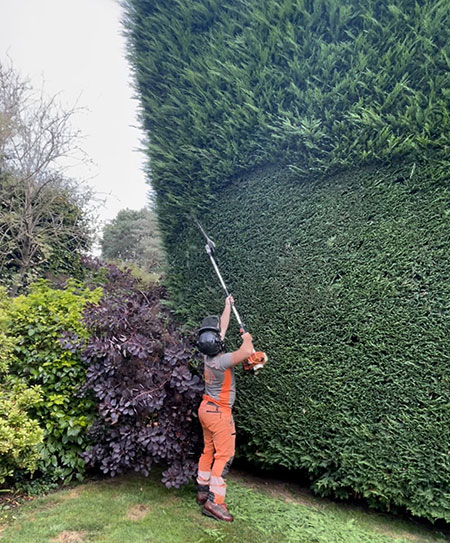 Professional Service
---
Sussex Tree Surgery provide a professional hedge cutting service to keep your home/garden hedges neat and tidy. We operate our hedge cutting service in Eastbourne and all surrounding areas in East Sussex, West Sussex, Surrey and Kent.
Improve Garden Appearance
---
Sussex Tree Surgery can offer a service to shape, reduce, or trim your hedges to help you gain the hedge that suits you and your property. Hedges play a big part in the appearance of your garden and Sussex Tree Surgery can help.
Ongoing Maintenance
---
We offer a routine maintenance hedge cutting service throughout the season to keep your hedges in shape. The amount of times a hedge should be cut depends on the hedge species and time of year.
We can Care for All Species
---
The most common types of hedges Sussex Tree Surgery work with are: Beech, Conifer, Laurel, Privet, Victorian box, and Yew.
Hedge Planting to Suit your Needs
---
Many customers ask us which plants to use as a hedge row and we would recommend and have planted all of the above. Planting a hedge depends on whether the customer wants an evergreen hedge, (a tree or plant that hold its leaf throughout the year).
We at Sussex Tree Surgery take this into account when providing and planting a new hedge row for a customer. Some customers want a specimen species such as Beech, whereas a Beech hedge will provide satisfaction of having a specimen species, it is a Deciduous plant so will lose leaf in autumn.
If a hedge is required to gain privacy throughout the year, an evergreen hedge plant will be suitable such as; Conifer or Privet.
We Can Help
---
Sussex Tree Surgery can provide all hedge work services which includes:
Hedge Cutting - Hedge Planting - Hedge Laying - Hedge Reduction.
For a free no obligation quote or any information on your hedge you require, please contact Sussex Tree Surgery